Dental Services In Fredericksburg, VA
When you choose Priority Dentistry you can be assured that your smile is in reliable hands. We are one of the best known dentists in Fredericksburg.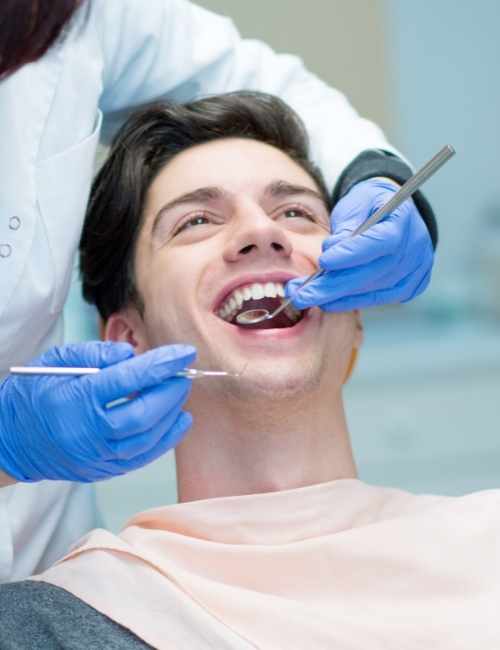 Professional Dental Services
We provide all kinds of dental services under one roof. Our Dentists have the needed education, training and experience to perform dental services. We are dedicated to providing the highest quality of treatment for your oral health. Our clinic has state of the art modern equipment and our doctors and staff keep themselves upgraded with the modern technology. Our on-going training processes ensured you get the best that there is.
Our clinic at Fredericksburg is designed keeping our patients in mind. We make sure you feel the most comfortable while in our clinic. Our friendly staff make every minute in the clinic comfortable and we do our best to help you feel less anxious before your visit. We are more than happy to answer any queries you have. We provide dental services to all ages. Our pediatric dentists specialize in issues related to kids dental health. Our family dentists see people of all ages. And our specialises include teeth and jaw surgeons who do cosmetic and/or medical surgeries. No matter what type of dental issues you have, we can diagnose and help treat it. You will feel at ease the moment you enter our clinic. We have made our place cozy and comfortable for our patients. We take hygiene and cleanliness very seriously. Our clinic follows OSHA guidelines for cleaning of the dental clinic. Your oral health is an integral part of your overall health and that is why we at Fredericksburg do our best to give you a healthy and beautiful smile that you will love.
Our Services
Dental Work in Fredericksburg – Priority dentistry at Fredericksburg does all kinds of dental work. We fit crown, do root canal therapy, fit braces and bridges, do teeth whitening, remove impacted and non-impacted wisdom teeth, veneers, dentures, provide gum treatment and do routine teeth cleaning. There is hardly any dental work that we don't do. We do routine as well as medical dental work at Priority Dentistry. Schedule an appointment to see a family dentist today.
Root Canal in Fredericksburg – If you have badly decayed and infected teeth, no need to suffer anymore. Even teeth that have been filled multiple times may be destroyed enough to need a root canal. Root canal is not as scary as it is portrayed to be. It is one of the most common procedures. Your dentist will numb the area before doing root canal and you won't feel a thing. You will save yourself a lot of pain and a possible deadly jaw infection when you get root canal therapy done in time.
Crown in Fredericksburg – When your teeth are damaged in shape and size, you might find it difficult to talk, chew, eat and smile confidently with those teeth. If you continue to keep damaged teeth exposed you might lose the teeth altogether. The best solution is a tooth crown. Our doctors can take needed measurements and fit a tooth crown that goes over your teeth and fits perfectly. It comes in various materials that you can choose from. Talk to our dentists to explore your options.
Filling in Fredericksburg – When you have a broken, infected or chipped tooth, filling might be needed. For cavities from bacteria and infected teeth, filling can stop food from sticking in the cavities and spreading the infection. In case of broken or chipped teeth, it can restore the look of the teeth and make it look better.
Dental Surgery In Fredericksburg – We provide all kinds of dental surgeries. Our dental surgeons can do all kinds of TMJ surgeries which can range from teeth extraction to reconstructive surgeries. We have diagnostic equipment at our clinic such as state of the art dental X-rays. Our surgeons have years of experience in performing even the most complex surgeries successfully. We have performed hundreds of surgeries in the last ten years and assure you skilled professionals.
Emergency Dentist In Fredericksburg – If you have a broken tooth, infected teeth, sudden pain in your teeth or jaw, call for an emergency dental appointment. We can help you save your broken tooth if you come to us in time. We are one of the most reliable emergency dentists in Fredericksburg that you can trust.
Book An Appointment Now !
About Fredericksburg
Fredericksburg, Virginia has a population of 28,622 people. Fredericksburg is located in Fredericksburg City County and is considered one of Virginia's best locations to live. Inhabitants in Fredericksburg enjoy a combination of urban and suburban living, with the majority of residents renting their houses. Fredericksburg is home to a large number of families and young professionals. Some places to visit in Fredericksburg, VA are Fredericksburg & Spotsylvania National, James Monroe Museum and Memorial, Kenmore, George Washington's Ferry Farm and more.
Address
4860 Hurry Street
Hartwood, VA 22471, USA